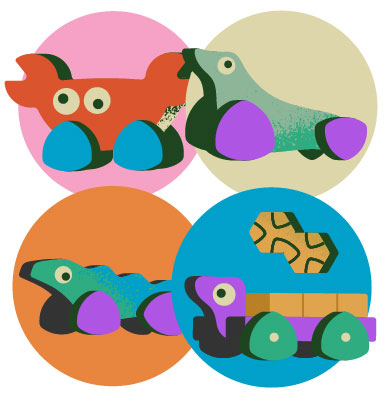 Galapagos series
Crab - 28110
Iguana - 28150
Sea lion - 28130
Tortoise - 28170

Description
Through this collection of toys, we want to pay homage to one of the most impressive ecosystems in the entire world. An ecosystem in which particular geology and isolation created unique life forms. We are, of course, talking about the Galapagos, a small archipelago in the middle of the Pacific.
So Impressive are the flora and fauna of these islands that they played a key role in Darwin's conclusions about evolution. This place is not only a natural treasure, it is also at the center of our modern understanding of science.
Looking at these pull toys you might be thinking that we forgot how to make wheels but we are actually reinventing it by using a non-conventional triangular shape. We did this to represent the many ways in which these creatures seamlessly move across ecosystems. Giving these toys a movement that is  surprising, playful, and still effective.
From the unique swimming iguanas to crabs, to crawling sea lions, we have chosen to represent some of the most famous inhabitants of these islands. And of course, we couldn't leave behind the most iconic of them all: The Galapagos Tortoise which apart from being a pull toy works as a sorter. 
One of the last details integrating this whole collection are the googly eyes that complement the movement and are giving these creatures a bit of a joyful silly look.
Like pretty much every other ecosystem this magical archipelago is threatened by climate change and direct human action. We hope this series will help us teach children about the importance of such unique places and the role they play not only for the world but also as part of our scientific heritage.


Design: Sebastián Segura

Size of the toys:
Crab: 19,5 x 12 x 6,5 cm
Iguana: 22 cm x 10 cm x 6,5 cm
Sea lion: 20 x 13 x 6,5 cm
Tortoise: 8,5 x 20 x 13,5 cm

Box iguana:  23 cm x 10,5 cm x  6 cm
Box crab, sea lion and tortoise:  20 cm x 14,5 cm x  8,5 cm

Elements Tortoise: 4 sorter blocks + tortoise body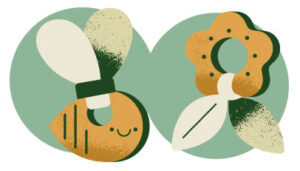 The Hempions (Teethers)
Bee - 11370
Flower - 11380


Description
These two cute theeters are part of our new collection 'The Hempions'. In thess toys we are using hemp a bit forgotten nowdays, but actually one of the greatest materials there are.  Many people don't know that hemp is very eco-friendly and used by humans since ancient times.
In our search to make our toys every time more ECO we found in hemp a great ally to add natural and safe textiles and guess what! hemp is antibacterial, antifungal and hypoallergenic.
We connected wood and textile to create interesting, cute and functional toys to help through the hard and painful teething process. The first one is a happy bee with textile wings. And the second one, a flower that comes with two leaves.
Each of them has engraved details for the child to explore. The textile can be detached to be washed easily and, good news, hemp dries very fast.


Design: Anna Bajor

Size of the toys:
Bee: 18 cm x 10 cm x 3 cm
Flower: 22 cm x 10 cm x 3 cm

Box:  25 cm x 12 cm x 2,5 cm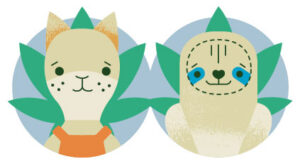 The Hempions (Fox and Sloth)
Fox - 78370
Sloth - 78380

Description
'The Hempions' are made from one of the greatest and safest materials for children: Hemp!
There are many things people don't know about this amazing plant so let's start talking about the reasons why we selected this material in the first place.

Hemp has been used by humans for millennia but just recently it is gaining back the popularity it used to have among ancient cultures. This material is more ecological than most, it doesn't need pesticides while growing, because it naturally repels bugs and plagues. 
A hemp plantation creates more oxygen than some forest while absorbing big amounts of CO2, and uses 4 times less water than a cotton plantation. It's not surprising that the hemp textile inherits all those positive qualities. It's antibacterial and antifungal by nature, it gets softer with every wash, and in comparison with cotton this material dries faster and it's 3 times more resistant. 
So, because of our commitment with the environment we decided to bring home these two new soft toys: The Fox and Sloth Hempion, both made out of hemp. We made their stuffing also hemp. It is maybe not as soft as poliester one, but it is very healthy and better for environment. Clothes of the fox is made out of leinen, which is also very ecological.
The Hempions are made with love and are eco-friendly. There's an innovative feeling to them, their texture and their quality turn them into a pleasure to play with.


Design: Anna Bajor

Height of soft toys:
Fox: 54 cm
Sloth: 47 cm

Materials: Hemp textile (Body and filling)
and linen (Fox clothes).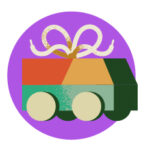 Description
Blocks are a very special part of the products we make here at Bajo and we often find ourselves going back to this most fundamental of toys, we constantly  try to fully explore their potential and tell new stories through them. 
Blocks are usually associated with architecture and construction, with stability, but with this new set we decided to take them on the road. We want to give children the possibility of putting them together to create different vehicles, thus exploring the blocks as a dynamic element rather than a static one.
This toy invites children to interact with it, to manipulate it and move it around, that's why we needed to find a clever way to rely on more than just gravity to keep the blocks together, and we found inspiration in another classic product, lacing toys, which help children develop motor skills and hand-eye coordination. 
So..How does it work? Children can put the blocks together in different combinations and orientations and then, the matching holes will allow them to pass a string joining them together. The end result are interesting composition of shapes, color and solid and soft elements and of course they can also play with the blocks separately making this a perfect option to ignite creativity and dexterity.


Design: Sebastián Segura

Size of the largest block with wheels: 12 cm x 4,5 cm x 6 cm


Box: 22 cm x 12 cm x 7 cm

8 blocks, 3 laces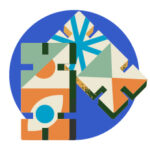 Description
The Domino is an all-time classic game. We wondered what would happen if you could take this to a whole new level, quite literally.

As you may notice, these tiles are different from the regular domino tiles; firstable, they are double sided and have symbols instead of dots but perhaps the most important of all differences are the six notches cut in every tile. This design allows the player to connect them in every direction and create three-dimensional structures. It was precisely this detail that inspired us to write a set of rules for the players to exploit the possibilities that these pieces offer.
Our game is just like the classic domino, it is all about matching symbols and finishing your tiles before your opponent. However there are few rules for it to work in 3D. You can find these set of rules on our website.

In Bajo, we like to create toys and games that give the player enough space to experiment and play in their own way. This domino is not an exception, beside playing  the game we created, the players can come up with their own game by adapting the rules:
Imagine a sculpture competition.
What if you assign each symbol a different effect when it's played?
What if you get points based on the amount of tiles you get rid of?
Use your creativity to design the perfect game for you and your friends!
And finally, this set can be used just as building blocks. Have fun!


Design: Sebastián Segura and Sebastián Rubiano

Size of each block: 9 cm x 4,5 cm x 0,6 cm

Box:  19 cm x 7 cm x 10,5 cm

Elements: 28 domino tiles