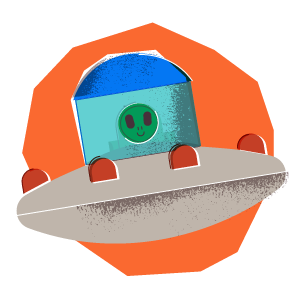 Description
Alien life has fascinated humans for decades, their existence is uncertain but there are those who claim to have seen green visitors from other planets. Real or not, proof is all around us, circle crops in fields, pictures of flying blobs among the clouds…and let's be honest: Octopuses! The fact is that we want to believe.

We have made a toy in the shape of an alien saucer, honoring this everlasting curiosity of humans with the unknown. We don't want to be lonely in the universe and we decided to make the friendliest of aliens to play with and decorate the child's room.

Simple design, metallic paint and attention-to-detail production turns this toy into an instant must-have Bajo toy.

The ship has 4 parts that are interchangeable and are even compatible with our rocket pyramid, while having both sets the kid will be able to mix the parts providing fun to the moon and back.


Design: Anna Bajor  

Size of the toy: 10 cm x 10 cm x 14.7 cm

Box: 16.5 cm x 15.5 cm x 7.2 cm


Elements: 4 elements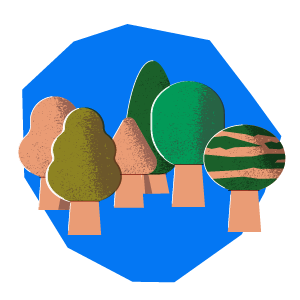 Forest set
91000 (A - B - C)


Description
Toys out there tend to represent buildings, cars, animals… 
All the things that show the world we live in, but not so many toys representing the natural world. Plants, greenery, parks, all very important in our urban ecosystem, and let's not forget they can be fun as well. 
That is the spirit we wanted to capture in these 3 sets. These figures, like the real trees, come in many shapes. 
Set A present trees in natural wood. These trees show the beauty of the wood grain as a natural pattern but they can be also painted on, drawn on or customized in any way. 
Set B has trees painted with Batik technique. Each tree's pattern is unique and unrepeatable making them almost a piece of art. 
Set C is more classic and every tree is beautifully painted in different shades of green. All these sets are different but they look great together. 
Children can get all of them to make a big forest out of different looking trees. 
The forest sets are a great decorative piece for the child's room and also an essential toy to accompany any kind of play. They can be a great background for other BAJO toys. This is another of our attempts to raise awareness about the importance of nature through toys.


Design: Anna Bajor & Wojciech Bajor

Size of the biggest tree: 13.8 cm x 5 cm x5 cm


Box:  28 cm x 11 cm x 14,2 cm8

Elements: 5 trees per set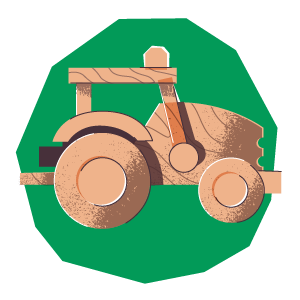 Make it! tractor
43310DIY


Description
Building, fabricating, and putting things together is a fundamental part of playing. This is precisely what we want to explore with the new "Make-It" line, toys based in the play philosophy of DIY (Do It Yourself) with these kits children and adults will be able to build their own toy from the beginning, becoming toy makers themselves.
This Tractor is the first toy from this line. It is comprised of 25 solid wood pieces made with all the bajo quality. It also comes with a detailed step-by-step instruction guiding the construction of the tractor.
While playing children can have a go at sorting the parts, sanding, assembling and gluing them together. They can also paint the parts or customize them in any way.
We believe all this process and work will give children a sense of achievemt and help them have a deeper bond with an object they have built with their own hands. The Make-It sets are not only created to help children accomplish projects and think ahead, this is important, but It is also opening the possibility for multiple generations to collaborate and have fun together.
Imagine parents, grandparents, siblings, or teachers, having fun while they support children in the construction of these sets.
The Make-It Tractor is packed in an ecological cardboard box. once you open it you are able to see all the components, organized and ready to start the fun.


Design: Wojciech Bajor & Sebastián Segura

Size of soft toy: 48 cm x 13 cm x 13 cm

Box: 36.3 cm x 14 cm x 13 cm


Elements: 25 elements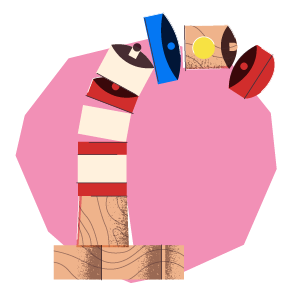 Description
One can almost hear the sound of the waves against the rocks while looking at this gorgeous lighthouse toy.What you can't see at first sight is that this toy is made out of 11 pieces and that they can all be stackable in different order, have different combinations and become a source of fun and motor skill practice for kids. When the playtime is done it will be a very nice looking object around the house.

It is made in solid beech wood and some parts are painted in bright navy colors.


Design: Anna Bajor

Size of the toy: 12.7 cm x 10.3 cm x 25 cm


Box: 13 cm x 10.8 cm x 10.2 cm

11 elements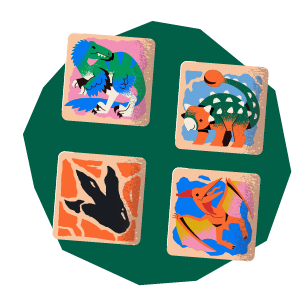 Description
We underestimate the importance of training memory from a young age and a great and fun way to do so is to train the visual memory, which at the same time trains the concept retention, like names of elements we want our kids to remember or that simply tickle their interests.
Dino Memo is a classic take on the memo game made specially for all the dinosaur fans (we know there are many). Even though we can't be sure of the color and other details of the aspect of dinosaurs beyond the scientific discoveries, we made a fun set with 18 different species of dinosaurs and other prehistoric reptiles. The box includes a guide with the name of them. Some are already well known dinosaurs, others, not so much but they are all equally cute, colorful and…extinct.


Design: Sebastián Rubiano

Size of each tile: 5 cm x 5 cm x 0.8 cm

Box:  17.5 cm x 16.5 cm x 4 cm

36 elements