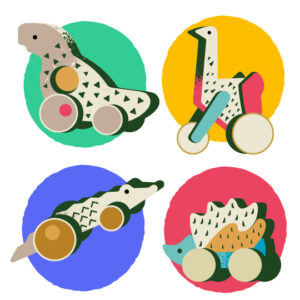 Vintage collection
Dino Vintage - 25170
Ostrich Vintage - 25160
Kayman Vintage - 25190
Hedgehog Vintage - 25180

Description
Bajo is turning 30 and we wanted to celebrate this milestone by bringing back some of Bajo's early designs. Throughout our history as toymakers we have learnt and changed so much and we thought how interesting it would be to apply all this acquired knowledge into some of the pieces that our journey was built upon.
Bajo's aesthetic evolved over the years, we acquired new know-how, and also few new designers joined the team. It's interesting to see the evolution of the classics into contemporary wooden toys. We added notes of color here and there, and also took advantage of new technologies that didn't exist back then, like printing on the surface of the toy. The result we have is a cute little collection of animals that have the best of two worlds, or better said, the best of two eras, our ambitious beginning, and our creative present.
In this collection we have 4 animals: a Dinosaur, a hedgehog, an ostrich and a Caiman. They were all refreshed from the very first version we made so many years ago with the Today's Bajo style!.


Design: Anna Bajor (Ostrich, Dinoaur & Caiman), Hubert Lisiak (Hedgehog) 

Size of the toys:
Hedgehog: 14 cm x 6 cm x 11 cm
Ostrich: 14 cm x 8 cm x 18.5 cm
Dinosaur: 19 cm x 8 cm x 14 cm
Caiman: 21 cm x 8,5 cm x 5 cm

Box: 20 cm x 8,5 cm x 14,5 cm


Elements Hedgehog: 3 elements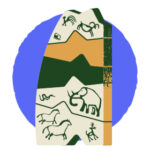 Description
Megalith is many different things at the same time. We wanted to travel in time and be inspired by the images of animals our ancestors created back in the paleolithic era.
We were not only thrilled with their depictions of the local fauna, we also wanted to explore the kind of constructions they created by manipulating the materials they had around. We were fascinated by the rocky constructions that survived milenia and that we can study and enjoy today. These constructions are known as Megaliths which comes from: Maga meaning Large and Lithos, meaning rock the perfect name for this toy.
With this set children can explore a more organic approach to building and construction, they can create more fluid structures thanks to the irregular geometry of the blocks while at the same time discovering their modular quality, since they all have sections that can be interlocked.
The symbolic dimension is also important for us. This is where the engraved animals come in, they create a powerful and poetic look that creates a link between us and the people who created them, we are sure these images will stimulate children's imaginations. 
The final element is the color scheme. We chose to preserve the texture of wood by keeping some elements natural and painting two in earthy tones of yellow and green; this contributes to the natural and timeless look.


Design: Sebastian Segura & Wojciech Bajor

Size of the toy: 12 cm x 3 cm x 20,5 cm


Box:  28,5 cm x 17,5 cm x 4,2 cm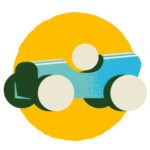 Vintage racing cars
Violet metalic - 43630V
Green metalic - 43630G
Blue metalic - 43630B


Description
This year we wanted to make a car that made justice to its name and could take us back to the golden era of racing. 
This car is elegant and has plenty of details that give it the look of a cute old-timey formula car. We knew we needed something special to develop this racing car, and we came up with a metallic paint that combined with the parallel lines printed over the  curved surface makes us feel the speed, this is for sure one of our fastest cars.
The vintage race cars are a team! and they come in 3 different colors: green, blue and violet. They are a great and fun toy to play but they also make a perfect collection piece for the adults and nostalgic fans of the speeders.


Design: Wojciech Bajor

Size of soft toy: 8,8 cm x 5,2 cm x 5,2 cm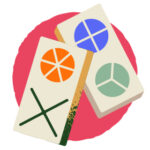 Description
In Bajo we have explored the classic game of Domino a number of times but surprisingly we didn't have a basic one amidst our lines. However, basic isn't exactly a word we could describe Bajo with, right? Even though this domino keeps a playable portable scale there's a twist: instead of dots we are representing the numbers with fractions in a circle. Instead of 4 dots we have the circle divided in 4, instead of 6 dots you will find it divided in 6. This is a nice design detail that establishes a connection between numbers and the way they can be depicted visually, making out of this simple and classic toy a very special one. It can be used for a fun Domino match and at the same time children can learn the concept of fractions.


Design: Sebastián Rubiano

Size of the toy: 8,8 cm x 4,4 cm x 0,5 cm


Box: 18,3 cm x 10 cm x 6,3 cm

28 elements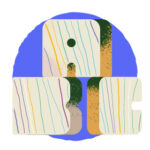 Description
Alphablocks is a set of numbers and letters that are only a few centimeters in size, but thanks to their thincknes and proportion give the impression of monumentality. Stacking them up and playing with them feels like moving enormous blocks with the tip of your fingers.
To complement this effect we have designed a linear pattern that highlights the wood grain, and since it is only printed on one side, has the quality of helping children familiarize with the correct orientation of the letters. finally apart from their function as blocks, children can match the lines in a sort of puzzle and learn the order of the alphabet


Design: Sebastian Segura & Wojciech Bajor

Size of each block: 4 cm x 4 cm x 2 cm

Box:  22 cm x 20,5 cm x 4,5 cm

37 elements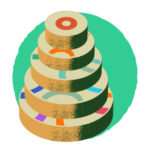 N-S Magnetic pyramid
39320

Description
Every day we interact with physical forces that we can't see directly with our eyes, but have a profound effect on our world. One of those forces is magnetism, a phenomenon equally useful and entertaining.
This idea motivated us to design the N-S magnetic pyramid, a toy composed of 5 circular pieces that allow children to safely explore the power of magnets and gives them the opportunity to discover not only the principles behind this force of nature, but also develop an appreciation of shapes, patterns, and colors.
The printed lines coincide with the elements going from one single line in  the smallest to 5 in the largest. 


Design:Wojciech Bajor

Size of the toy: 10 cm x 10 cm x 12,5 cm

Box:  22 cm x 20,5 cm x 4,5 cm

5  magnetic elements